Fette Sans
-- The Cabinet / A G I R L I C A
-- The bitter ends of (the technologies of tenderness)
-- When everything she was overthinking turned out to be true
-- Models of Adaptation
-- The night would lie during the day
-- Resonance of an awkward smile
-- (re-)discipline in [redacted]
-- If I can't sleep at night is it because I am awake in someone else's room?
-- TЕПЛИЧНOE РАСТЕНИЕ (hothouse plant)
-- I am afraid you could have been misled
-- Untitled [The Fabulist Hunting the Fringes]
-- La Reprise (Dérive)
-- Precarious Gossips
-- Editions
-- Info
-----------------------------------------------------------------------
Precarious Gossips
Precarious Gossips aims at gathering voices coming from multiple backgrounds, that may be under-represented or generally quieter, as to discuss important yet delicate topics.
The context of a luxurious hotel room offers a rare opportunity to combine safety, warmth and theatricality to encourage and nurture conversations between people that may otherwise not have met. This initial assembly marks the launch of a series of discussions and further incentives for care and self-care. Offline gestures feel particularly poignant in times when most of us seem to engage solely online in the sharing of ideas and when we are critical.

--

September 30, 2018, HOTEL ZOO, BERLIN
ON FEM-CRUISING, with Cibelle Cavali Bastos, Selin Davasse, Nat Marcus, Jay Owens, and Maria Inés Plaza
We discussed why some of us had abstained, voluntarily or otherwise, from cruising, and what were some of the strategies (online and offline) we had found to persuade ourselves to drift towards less normative rendezvous.
READ THE ESSAY IN ARTS OF THE WORKING CLASS (FRENCH & ENGLISH)

--

July 2, 2019, HOTEL ELEPHANT, WEIMAR / BAUHAUS UNIVERSITY
THE MUSE, with Marie von Heyl
We discussed the muse, and the possibility of an opposite, the muse as the denial of a subject position as a way of muting and glorifying women, the muse as devouring the other, the muse as drug(s)

--

September 18, 2019, THE MARMARA PERA HOTEL, ISTANBUL / ISTANBUL BIENNALE
THE LEAKING WOMAN, with Marie von Heyl
We discussed the figure of the leaking woman. There is a long tradition of portraying non-male bodies as porous, overflowing and incoherent. Roaming unhinged within unstable boundaries they are in need of control and articulation. The perceptions of female expression have been shaped by metaphors of leakage and torrential threat. The discussion will consider the discursive, regulatory and medical histories of this trope as well as its offshoots into public representations of women. They will ask how pervasive these narratives are today and if inherently gendered cultural codes can be rescripted?

--

September 30, 2019, HOTEL ZOO, BERLIN
THE WORLD HAS ALWAYS BEEN JUST ABOUT TO END, with Lou Drago, Anna Ehrenstein, and Yves B. Golden
We discussed pain and panic. From Audrey Wollen's sad girl theory and Johanna Hevda's sick women theory to permission, political non-self-realizations, medical biaises against non-white-male bodies. We talked about revenge.

--

December 5, 2019, HOTEL ZOO, BERLIN
ON SEX & COMEDY, with Kasia Fudakowski and Marie von Heyl
We discussed sex and comedy, or why pissing while fucking is heavenly, we read from the sweating of Elsa von Freytag-Loringhoven, we raged over the necessities of laughing to reach higher spaces, like re-watching Keke Palmer's 45 sec clip "so gross but so fun", and we discussed Why Women Aren't Funny, circa that 2004 Vanity Fair essay by Christopher Hitchens (who infamously omitted to refer to Solanas shooting Warhol)

--

May 8, 2020, HOME, WHEREVER (ONLINE) / PERFORMISTANBUL
FROM MY BED TO YOURS, with Marie von Heyl, Katharina Ludwig, and Philipp Wüschner
For the first time we emigrated online – collectively yet each in our respective rooms, we discussed and literally performed various concepts of 'home'. We discussed the privilege of having a home and how real life phenomena like luxury and social distinction translate into the digital. Can you feel socially excluded and therefore out of place in your own room? Does the vulnerability that comes with inviting strangers-via-screens into your house ask for new forms of exorcisms? How to withdraw within an enforced confinement (is there such a thing as a home within a home?) and how do such gestures relate to offline notions such as the romantic figure of the ornamental hermit?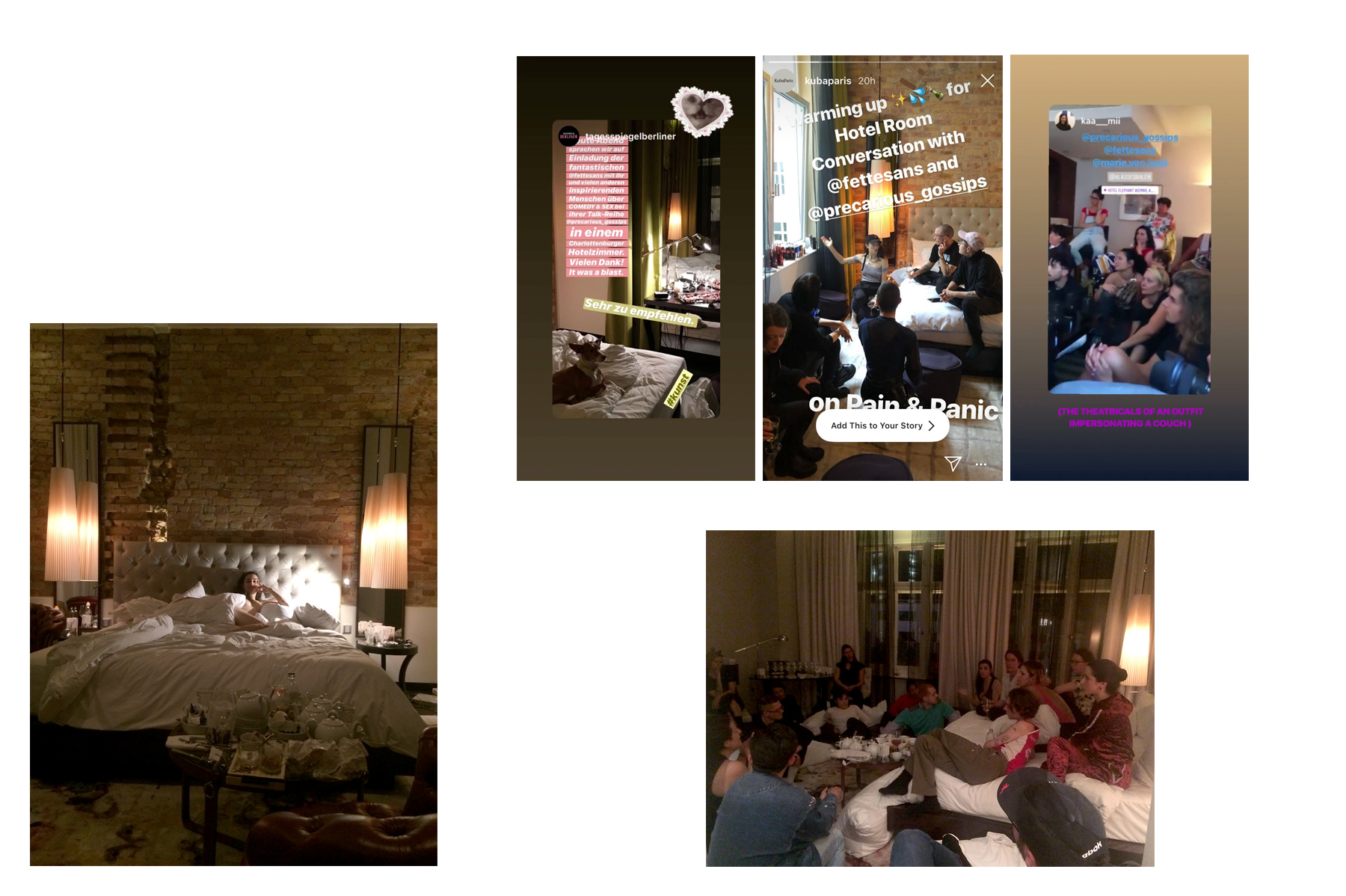 Copyright 2023